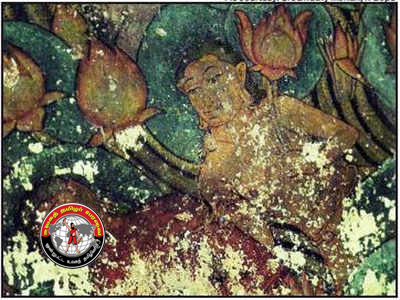 Dating to the 9th century Sittanavasal near Pudukkottai has some of the earliest frescoes in south India. The Pandya kingdom artworks are comparable to the Buddhist art of Ajanta and the Hindu art found in the Brihadeesvara temple in Thanjavur because of their classicism, according to heritage expert R Gopu.
The paintings are barely visible today, having succumbed to the ravages of time and acts of vandalism. "Ajanta is Buddhist, Sittannavasal is Jain, Thanjavur is Hindu. Era of classicism in paintings in India ended after this, with replacement by mostly baroque, heavy ornamented arts," he said as part of a lecture 'Sittanavasal: An overview and a proposal', organised by the Tamil Heritage Trust's monthly lecture.
Sittannavasal is a rare site, a Jain temple of the Pandyan era with some magnificent paintings. "It is the continuity of the Ajanta school of art, whose last vestiges can be seen in the Chola paintings at the Thanjavur Big Temple," he said. The temple in Sittannavasal is called Arivaar Kovil, meaning temple of the learned. It has paintings of Jain Tirthankaras and acharyas, the samavasarana painting on the ceiling, dancers on two pillars and an unidentified couple. These are possibly the only paintings of the Pandyan dynasty that we have," said Gopu.
However, the paintings of Sittanavasal like those of Ajanta have suffered because of vandalism in the past century, after having survived for more than a thousand years. "They need to be protected. The special nature of their art should be taken to the public via educational tools. One suchwouldbe a heritagecentre proposed by heritage scholar S Swaminathan," he said. If this neglect goes on these priceless treasures will be lost forever in the next few decades. "The entire temple can be recreated in this heritage centre, with four galleries, one each to explain art, inscriptions, sculptures and philosophy," he said.
Besides the Arivar temple and its paintings, there are Jain beds on the hill above with a 300BC Tamil Brahmi inscription. There is an underwater Shiva temple, usually filled by a natural spring called Naaval Chunai. Recently it ran dry and people worshiped it. Some people also took efforts to dig out the mud that had settled on to the temple over the years. A few megalithic cairn circles nearby indicate presence of prehistoric people in the region. It is one of the largest such prehistoric burial sites in Tamil Nadu," said Gopu.
Courtesy : TOI, Chennai