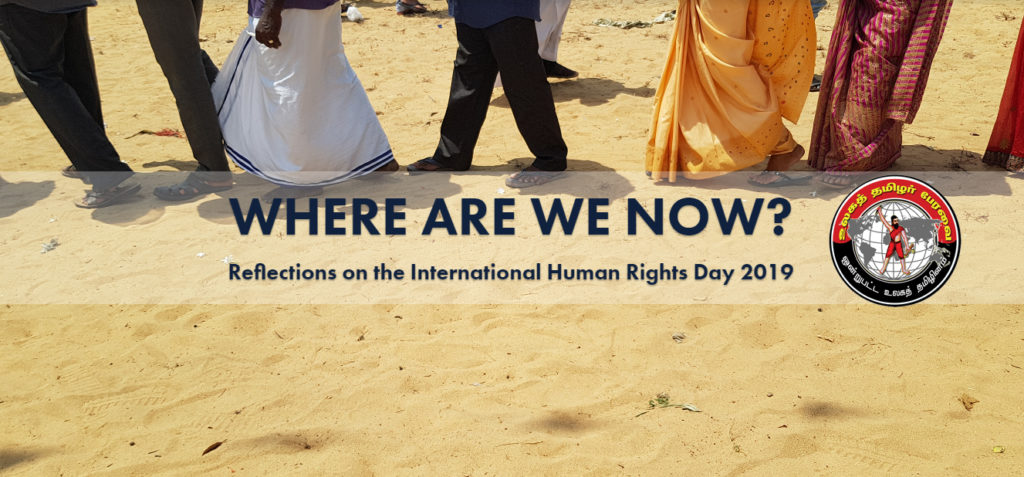 The focus of 2019's International Human Rights Day is on a celebration of "the courage, clarity, and principle of women, men, and young people who are rising up peacefully to create greater freedom and justice". There is plenty of courage to celebrate here at home in Sri Lanka, where citizens have kept working and hoping for as well as seeking justice. Over the past year, Groundviews published many facets of the human rights struggles in the country, many of which were under-reported or entirely unreported in mainstream media. Out of the many narratives highlighted, these are some of the key issues and stories that strike a chord, and must be talked about now more than ever, lest they be buried in an avalanche of palatable history.
AN ENDLESS WAITING
There are many records throughout history of wives and mothers waiting for husbands and sons who have gone to wage a war. To this date, they wait for their family to return; family that did not, perhaps, wage a war in the traditional sense of the word, but waged a war against a tyranny, or merely for the sake of humanity. Justice is rarely delivered; answers are rarely found. The pattern is not new. Sri Lanka has a long record of enforced disappearances and reigns of terror: the voices that were taken away at times by mistake, and because they dared to speak.
Happiness brings people together; but, sorrow has a more profound role in stripping away the peripheral aspects of an identity and stripping one to their core. Maatram Editor Selvaraja Rajasegar recorded an emotional journey of waiting for a loved one who may never return; and found out in spite of geographical differences, racial disparities, the depth of sorrow and the faint glow of hope are the same. Delving deeper into the Southern narratives of an endless waiting, Amalini de Sayrah and Pasan Jayasinghe wrote on the forced disappearances of the 1988/1990, the Age of Terror or the Bheeshana Yuagaya. The women have been waiting for thirty years, their plight and pain almost an afterthought as the world has moved on, attempting to forget the terrors of a past that is preferred forgotten. The latest addition to the list of women endlessly waiting for their husbands to return is Sandya Eknaligoda, fighting with a fierceness amidst ridicule, threat, and persecution. She is the latest voice under the threat of being silenced.
"IT HAS BEEN THIRTY YEARS, BUT THE PAIN OF THIS LOSS HAS NOT REDUCED AT ALL."
WHEN HOME WON'T LET YOU STAY
The racially fuelled anger in the aftermath of Easter Sunday attacks impacted more than the Sri Lankan Muslims. Refugee and asylum seeker population in Sri Lanka, who escaped here on the hopes of protection, were evicted, threatened, and have been forced into an undignified existence. The plight of a group of people in dire need who had to leave their homes behind, in a nation that prides itself on hospitality and goodwill is ironical. The refugees are forced to live one day at a time, unsure what the next day will bring.
With clear borders being drawn, ownership declared over land and space, belonging – not of the land, but a sense of having a home – is being questioned. We are now at a point where minorities are guests in a majority home, expected to abide by the rules of the house. The recent events in the political arena foretell an erasure of history, and a re-writing of a narrative. It is a narrative that is likely to render people without a place to call home, a land, a place. These people will be rendered homeless not because they do not belong, but because they are forced to leave.
NO ONE LEAVES HOME UNTIL HOME IS A DAMP VOICE IN YOUR EAR SAYING LEAVE, RUN NOW, I DON'T KNOW WHAT I'VE BECOME.
TO LIVE IS NOT TO SURVIVE
The past year saw many issues around gender coming into light after decades of struggle.
From theoretical framing to internal politics of the Muslim Marriage and Divorce Act, activists were able to make some progress in their fight for the right to live on their own terms. Ground activist Shreen Abdul Saroor wrote at length of ACJU hijacking a thirty-year long movement, led by women. The queer community of Sri Lanka that had strengthened itself and established numerous organisations and movements found itself in a dilemma with the declaration of a state of Emergency following the Easter Sunday attacks. Pasan Jayasinghe reflected on Pride under Emergency. Although the Emergency has been lifted, the oppression of minorities and the general public wave that moves towards conservatism does not bode well for any individual wishing to live their life true to who they are, not merely exist according to an "accepted" framework.
"DON'T TREAT US LIKE SECOND CLASS OUTCASTS. IF YOU CAN'T PROTECT US, WHO WILL?"
MOVING FORWARD
On the International Human Rights Day 2018, Amalini de Sayrah and Hafsa Razi wrote Breathing Space, a record of fears noted by Sri Lankan human rights activists in the face of the constitutional coup in 2018.
"'THE RAJAPAKSA ERA' IS A PHRASE THAT HOLDS A RANGE OF SINISTER CONNOTATIONS. FOR HUMAN RIGHTS ACTIVISTS, IT HARKENS BACK TO A CULTURE OF THREATS, VIOLENCE WITH IMPUNITY, AND 'WHITE VANS'. INDIVIDUALS PERCEIVED AS THREATS TO THE CONSOLIDATION OF RAJAPAKSA POWER, WERE DELIBERATELY TARGETED; INCLUDING ACTIVISTS CALLING FOR MEMBERS OF THE RAJAPAKSA FAMILY TO BE HELD ACCOUNTABLE FOR HUMAN RIGHTS VIOLATIONS."
They feared that the coup would mean a Rajapakse regime where struggles for human rights would be at best ignored, and at worst silenced. It is ominous to be compiling this recap exactly a year later, where what was then a "what if" has now become both the present and the future. The Yahapalanaya government was gloriously incompetent, indecisive, and ruptured within; yet ""engagement [with Parliament] opened up for [the activists] during Wickremesinghe's tenure as Prime Minister" and it is doubtful if it will continue under a Rajapaksa regime.
Unofficially announcing his candidacy for the Presidential Election 2019, Gotabaya Rajapaksa made a clear statement of his priorities:
"[THE YAHAPALANYA GOVERNMENT] DID NOT GIVE PRIORITY TO NATIONAL SECURITY, THERE WAS A MIX-UP. THEY WERE TALKING ABOUT ETHNIC RECONCILIATION, THEN THEY WERE TALKING ABOUT HUMAN RIGHTS ISSUES, THEY WERE TALKING ABOUT INDIVIDUAL FREEDOMS"
In an era where human rights and individual freedom appear to be secondary to "national security" as defined by an authority figure, it is all the more important that the stories that have surfaced during the past five years are not forgotten. Realistically, it is likely that the wives and mothers will have to continue their endless wait; that Home will not be home for everyone, but a mere guesthouse with a set of rules stuck to the door; that oppressed communities might have to focus on surviving than on living. Yet, it is when the histories are being re-written that these stories must be written and recorded. There is immense power in a story; and all stories must be told.
Courtesy – https://spark.adobe.com/page/2uK1RH3VCt5EV/?red=a